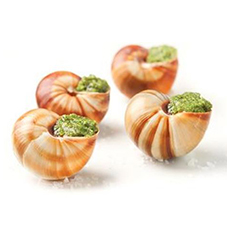 Escargots In Shell With Butter
Portions 2 (72 ct)
Item #56500
Ready to use extra large helix lucorum pre-packed into shells and finished with garlic parsley butter. Bake and serve.
Request more info
SHELF-LIFE: Store in freezer below 0˚F (-18˚C). Keep frozen until ready to use. Do not thaw and refreeze. Shelf life: 18 months in the freezer, 24 hours in the refrigerator.
CERTIFICATIONS GMO free. All natural.