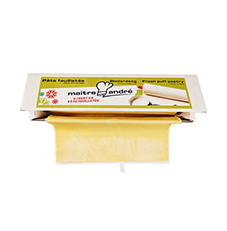 Traditional puff pastry 8.2 ft roll
Portions 1 (9.3lb)
Item #64044
Fresh, top quality and easy-to-use puff pastry on roll. Application: can be used for pizzas, pies, tarts and pastries.
Request more info
SHELF-LIFE: Shelf life:12 months freezon below 0˚F (-18˚C). Once thawed, protect with film, refrigerate and use within 28 days. Always wrap the pastry in a container after use in order to prevent the dough from drying out.
CERTIFICATIONS GMO FREE.