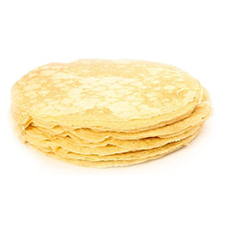 Plain Thin Crepe 8.3"
Portions 18 (10 ct) (1.16 oz)
Item #58612
Plain sugar free crepes. Applications: sweet (dusted with sugar, or filled with melted chocolate, jam, cream, honey or fruit), or savory (filled with ham, cheese, etc).
Request more info
SHELF-LIFE: Store in freezer below 0˚F (-18˚C). Keep frozen until ready to use. Do not thaw and refreeze. Shelf life: 18 months frozen, up to 2 days in the refrigerator at 39˚F.
CERTIFICATIONS All natural. GMO free. Halal.