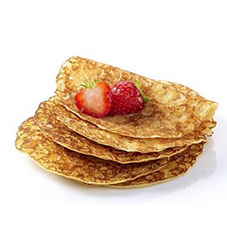 Small French Crepes (Sweet Vanilla) 5.5″
Portions 8 (10 ct) (1.06 oz)
Item #58616
Fluffy, fresh and sweet crêpes. Produced with a touch of vanilla, they are ideal for breakfast, snack, snacking, brunch, dessert and buffet catering.
Request more info
SHELF-LIFE: Store in freezer below 0˚F (-18˚C). Keep frozen until ready to use. Do not thaw and refreeze. Shelf life: 18 months frozen, 1 to 2 days in the refrigerator at 39˚F.
DEFROST: Remove the crepes from package. Thaw for 20 minutes at room temperature or microwave on defrost for 30 seconds.
CERTIFICATIONS All natural. GMO free. Halal.